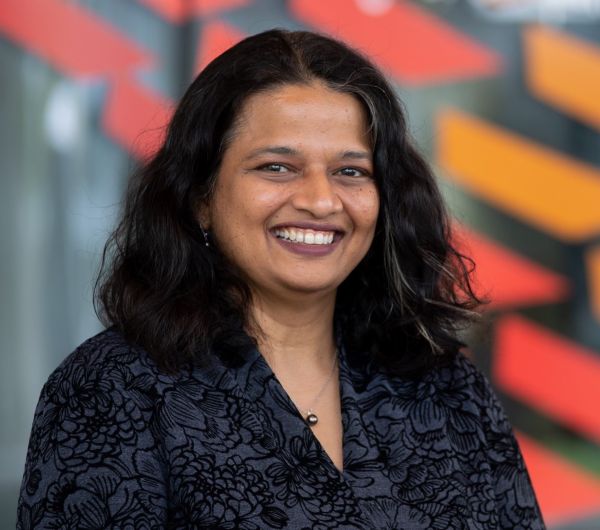 Kavita Bala, computer scientist, entrepreneur, and professor, was named dean of the Faculty for Computing and Information Science in 2020, and is the inaugural dean of the Cornell Ann S. Bowers College of Computing and Information Science. She received a Bachelor of Technology (B.Tech.) from the Indian Institute of Technology, and a Masters of Science (S.M.) and a Doctor of Philosophy (Ph.D.) in Computer Science from the Massachusetts Institute of Technology. Prior to her dean appointment she was chair of Cornell's Department of Computer Science. 
Bala's research expertise is in computer graphics and computer vision and she has made fundamental contributions to the field. Her early research focused on realistic, physically-based rendering and includes seminal work on scalable rendering, notably the development of approximate illumination algorithms, as well as deep contributions to modeling of textiles. Currently, Bala is working on recognition of materials, styles, and other object attributes in images. 
In addition to numerous teaching awards and publishing a graduate textbook, she has received a variety of awards and accolades including: the SIGGRAPH Computer Graphics Achievement Award (2020); the IIT Bombay Distinguished Alumnus Award (2021); she is an Association for Computing Machinery (ACM) Fellow (2019); and is a Fellow of the SIGGRAPH Academy (2020). 
As chair of the Department of Computer Science, Bala expanded the department's presence in robotics and artificial intelligence, increased opportunities for undergraduate research and entrepreneurship, and expanded diversity efforts for students and faculty.
As dean, her goals include fostering research excellence and interdisciplinary research; expanding experiential learning and novel educational initiatives for students; deepening connections across Cornell campuses; and broadening participation in Cornell Bowers CIS.
---
"Cornell's model of bringing together computer science, information science, and statistics and data science into one academic unit was visionary and decades ahead of its time. CIS recognized early and emphatically that computing and information technologies would transform and upend our most basic institutions
"We are now living in a time of both urgent challenges and amazing opportunities. Cornell Bowers CIS will continue to push boundaries in the information age through its commitment to both developing state-of-the-art computing and information technologies, and in studying and understanding the societal and human impact of these technologies." 
---
READ MORE:
---
GET IN TOUCH: 
Kavita Bala, Dean
105 Bill & Melinda Gates Hall
Phone: 607.255.9188
Caitlin Fields, Executive Staff Assistant to the Dean
105 Bill & Melinda Gates Hall
Phone: 607.255.9188
Lindsay Welsh, Executive Assistant
105 Bill & Melinda Gates Hall
Phone: 607.255.4819